Deep Purple - From Here To InFinite (2017) BDRip 720p
Screenshots: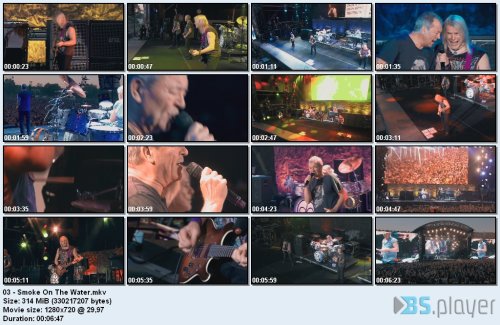 Setlist:
Live At Hellfest 2017:
01. Time For Bedlam
02. Birds Of Prey
03. Smoke On The Water
Official Music Videos:
04. The Surprising
05. Johnny's Band
06. Time For Bedlam (Behind The Scenes photoshoot)
07. All I Got Is You
08. The Movie - From Here To inFinite
Description:
To celebrate the great success of the album a special "inFinite (Gold Edition)" is about to be released. The album will feature all of the great masterpieces from "inFinite", while also including a brand new live recording from Hellfest 2017, the biggest metal festival in France. Thousands of fans assembled to witness this very special performance. The live recording is also available on vinyl as "The inFinite Live Recordings, Vol. 1". Every fan's need will be fulfilled with the release of the documentary "From Here To inFinite", which shows the history of origin of the new Deep Purple album "inFinite" and provides a deep insight into the workings of a band who with their work wrote music history. The 97minute music film follows the five musicians on their captivating journey to Nashville to record their new album and on it the band let cameras come as close as they never have before. The Blu-ray disc also includes a vast array of bonus material, including music videos, behind the scenes footage, outtakes and interviews - all previously unreleased.
Info:
Source:
Genre:
Rock | Documentary
Quality:
BDRip | 720p
Format:
MKV | 5000kbps
Length:
00:36:50 + 01:36:13 | 7.05Gb
Video:
H.264 | 1280x720 | 16:9 | 29.970fps
Audio 1:
PCM | 1536kbps | 48kHz | 2 channels: L R
Audio 2:
DTS | 1510kbps | 48kHz | 6 channels: Front: L C R, Surround: L R (Documentary)
Language:
English

Kod:

https://www.keeplinks.co/p84/5a4900e175a47
pass: galexandersHD
Attention:
Files are subject to expiration and can be automatically deleted if their not downloaded 30 days after the last download.