Pearl Jam - Lets Play Two (2017) Blu-Ray 1080p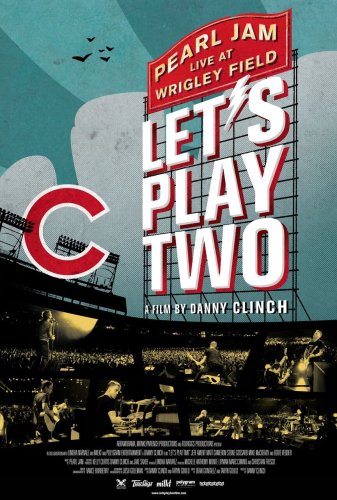 Screenshots:
Setlist:
Concert film centering on the rock band Pearl Jam's August 2016 shows at Chicago's Wrigley Field. [02:01:08]
Треклист:
01. Opening
02. Low Light
03. Better Man
04. Elderly Woman Behind The Counter In A Small Town
05. Last Exit
06. Lightning Bolt
07. Black Red Yellow
08. Black
09. Corduroy
10. Given To Fly
11. Jeremy
12. Inside Job
13. Time has come today
14. Go
15. Crazy Mary
16. I believe in miracles
17. Releasу
18. Take me out to the ball game
19. Alive
20. All The Way
21. I've Got A Feeling
22. Wishlist
Bonus:
- Photogallery [00:02:51]
- Black [00:08:19]
- Mind Your Manners [00:02:36]
- Masters of War [00:06:55]
- Rearviewmirror [00:06:23]
- Immortality [00:05:54]
Description:
Let's Play Two is a documentary film that chronicles Pearl Jam's legendary performances at Wrigley Field during the Chicago Cubs historic 2016 season. With Chicago being a hometown to Eddie Vedder, Pearl Jam has forged a relationship with the city, the Chicago Cubs and Wrigley Field that is unparalleled in the world of sports and music.
From Ten to Lightning Bolt, the documentary film shuffles through Pearl Jam's ever-growing catalog of originals and covers - spanning the band's 25-year career. Through the eyes of renowned director/photographer Danny Clinch and the voice of Pearl Jam, the film showcases the journey of this special relationship.
Info:
Source:
Genre:
Alternative Rock | Grunge
Quality:
Blu-Ray | 1080p
Format:
M2TS | 30.0Mbps
Length:
02:01:08 + 00:32:58 | 46.0Gb
Video:
H.264 | 1920x1080 | 16:9 | 23.976fps
Audio 1:
DTS-HD MA | 4598kbps | 48kHz | 6 channels: Front: L C R, Surround: L R
Audio 2:
Dolby TrueHD | 3781kbps | 48kHz | 6 channels: Front: L C R, Surround: L R
Audio 3:
LPCM | 1536kbps | 48kHz | 2 channels: L R
Language:
English

Kod:

https://www.keeplinks.co/p84/5a32bfa223e0c
pass: galexandersHD
Attention:
Files are subject to expiration and can be automatically deleted if their not downloaded 30 days after the last download.