Black Sabbath - The End (2017) BDRip 1080p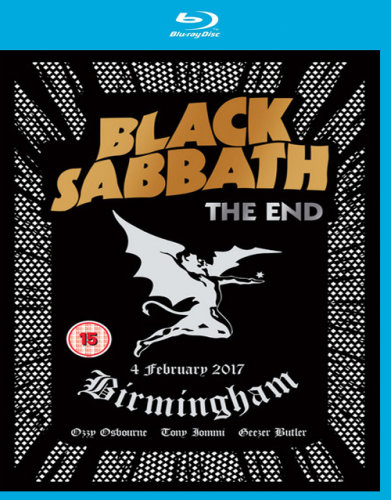 Screenshots:
Setlist:
01. Black Sabbath
02. Fairies Wear Boots
03. Under The Sun / Every Day Comes And Goes
04. After Forever
05. Into The Void
06. Snowblind
07. Band Intros
08. War Pigs
09. Behind The Wall Of Sleep
10. Bassically / N.I.B.
11. Hand Of Doom
12. Supernaut / Sabbath Bloody Sabbath / Megalomania
13. Rat Salad / Drum Solo
14. Iron Man
15. Dirty Women
16. Children Of The Grave
17. Paranoid
About:
Black Sabbath The End is presented on Blu-ray courtesy of Eagle Vision, an imprint of Eagle Rock Entertainment, and Universal Music Group with an AVC encoded 1080p transfer in 2.39:1. This is one of nicer, more consistent, looking concert videos I've had to pleasure to review recently, one perhaps elevated by its progressive presentation which avoids many of the issues that often hobble these outings, like posterizing and banding. While there's the same kind of lamentable ADHD quick cutting and zooming readily on display throughout the concert, when the cameras do pause for a moment, detail levels are routinely quite high, and there are some rather arresting looking close-ups, often in rather evocative lighting conditions like deep blues or purples, that focus on elements like strumming hands or sweat streaked faces that offer really excellent levels of fine detail. Contrast is also solid throughout, with some very deep blacks, something that helps to create a nicely shadowy look for quite a bit of the concert. That said, the one arguable deficit here is in terms of shadow detail — there are times when the dimly lit stage provides very little in the way of detail, especially toward the edges of the frame, which can occasionally at least look a little murky. Otherwise, though, this is a top flight transfer that will almost certainly please Black Sabbath fans.
Info:
Genre:
Hard Rock
Quality:
BDRip | 1080p
Format:
MKV | 8120kbps
Length:
01:48:00 | 8.81Gb
Video:
H.264 | 1920x800 | 21:9 | 23.976fps
Audio 1:
PCM | 1536kbps | 48kHz | 2 channels: L R
Audio 2:
DTS | 1536kbps | 48kHz | 6 channels: Front: L C R, Surround: L R
Language:
English

Kod:

https://www.keeplinks.co/p84/5a12937f4ea3a
pass: galexandersHD
Attention:
Files are subject to expiration and can be automatically deleted if their not downloaded 30 days after the last download.