Delain - Live At Paradiso (2017) Blu-Ray 1080i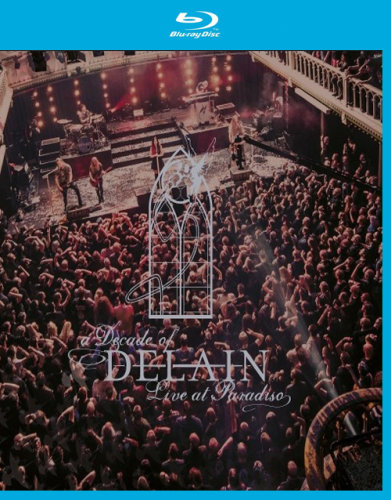 Screenshots:
Setlist:
01. Intro (The Monarch)
02. Hands Of Gold (featuring Alissa White-Gluz)
03. Suckerpunch
04. The Glory And The Scum
05. Get The Devil Out Of Me
06. Army Of Dolls
07. The Hurricane
08. April Rain
09. Where Is The Blood (featuring Burton C. Bell)
10. Here Come The Vultures
11. Fire With Fire
12. The Tragedy Of The Commons (featuring Alissa White-Gluz)
13. Danse Macabre
14. Sleepwalkers Dream (featuring Rob van der Loo, Sander Zoer, and Guus Eikens)
15. Your Body Is A Battleground (featuring Marco Hietala)
16. Stay Forever
17. See Me In Shadow (featuring Liv Kristine and Elianne Anemaat)
18. The Gathering
19. Pristine (featuring George Oosthoek)
20. Mother Machine
21. Sing To Me (featuring Marco Hietala)
22. Don't Let Go
23. We Are The Others
Bonus:
01. We Are The Others - A Decade Of Delain (documentary) [00:35:20]
02. We Are The Others (live at Masters Of Rock 2015) [00:03:34]
03. Suckerpunch (official music video) [00:03:56]
About:
Symphonic Metal institution DELAIN are celebrating their tenth anniversary! Their first live album "Decade Of Delain - Live at Paradiso" is a splendid, two CD-set fueled by some seriously incredible highlights. Naturally, hits like "Suckerpunch" and "We Are The Others" find their place in the track listing, as well as the beast of an opener "Hands Of Gold," which features Arch Enemy's Alissa White-Gluz in what amounts to an epic duet. Flawless chants and solo guitars lift this live record to a monumental state. Charlotte Wessels and her operatic singing and the Pink Floyd-vibe of the guitars will elicit a visceral reaction, leaving you covered in goosebumps. Additionally, Fear Factory frontman Burton C. Bell features on "Where Is The Blood" in another standout track. DELAIN also invited an unforgettable guest to their birthday party — you'll find the sound of the bassists Rob van der Loo of EPICA and Marco Hietala of NIGHTWISH as well as Liv Kristine - formerly of LEAVE'S EYES - on the second half of this double album. It's truly a special moment, celebrated with their musical friends and their fans.
Info:
Source:

Genre:
Symphonic Rock | Heavy Metal
Quality:
Blu-Ray | 1080i
Format:
M2TS | 24.9Mbps
Length:
01:50:53 | 30.4Gb
Video:
H.264 | 1920x1080i | 16:9 | 29.970fps
Audio:
LPCM | 1536kbps | 48kHz | 2 channels: L R
Language:
English

Kod:

https://www.keeplinks.co/p84/5a017d831059c
pass: galexandersHD
Attention:
Files are subject to expiration and can be automatically deleted if their not downloaded 30 days after the last download.