Linkin Park & Friends - Celebrate Life Memorial Concert (2017) HDTV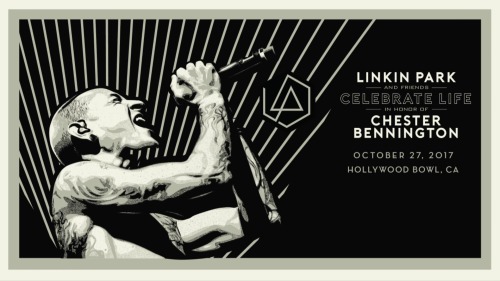 Screenshots:
Setlist:
01. Robot Boy/The Messenger/Iridescent
02. Roads Untraveled
03. Numb (crowd singing the entire song)
04. Shadow of The Day (with Ryan Key) (with U2's With or Without You extended bridge, first time with live violin)
05. Leave Out All The Rest (with Gavin Rossdale) (first time with live violin)
06. Somewhere I Belong (with Takahiro Moriuchi)
07. Castle of Glass(with No Doubt) (with No Doubt) (with Adrian Young, Tom Dumont and Tony Kanal of No Doubt, and Alanis Morissette)
08. Rest (new song debut by Alanis Morissette)
09. Nobody Can Save Me (with Steven McKellar) (with Jon Green)
10. Battle Symphony (w/ Jon Green)
11. Sharp Edges (w/ Ilsey Juber)
12. Talking to Myself (with Ilsey Juber) (with Bob Dylan's All Along the Watchtower)
13. Heavy (w/ Kiiara and Julia Michaels)
14. One More Light
15. Looking For An Answer (Mike Shinoda only, live debut, brand new song, written after Chester's death)
16. Waiting For The End (with Sydney Sierota) (Mike raps Until It Breaks v2) ext. Intro/Outro w/ Mike singing v1/c1 on piano, Apaches Intro,w/ Steve)
17. Crawling (with Oliver Sykes) (with Zedd on drums)
18. Papercut (w/ Machine Gun Kelly)
19. One Step Closer (with Jonathan Davis) (with Ryan Shuck and Amir Derakh of Julien-K and Dead by Sunrise)
20. A Place For My Head (w/ Jeremy McKinnon)
21. Rebellion (with Frank Zummo) (with Daron Malakian and Shavo Odadjian of System of a Down)
22. The Catalyst (with Jon Green) (with Deryck Whibley and Frank Zummo of Sum 41)
23. I Miss You (Blink-182)
24. What I've Done (w/ Blink-182)
25. In The End (Audience singing Chester's part)
Encore:
26. Iridescent
27. New Divide (shortened, v1/c1/bridge until end, with Chester's pre-recorded vocals from a 2014 show)
28. A Light That Never Comes (with Bebe Rexha) (Also with Steve Aoki. Frank Zummo on drums)
29. Burn It Down (w/ M. Shadows)
30. Faint (with Synyster Gates) (Ext. outro, also with M. Shadows)
31. Bleed It Out (extended bridge with The Messenger chorus until the end of the song, with many guest stars on stage)
Info:
Genre:
 Alternative Rock
Quality:
 HDTV | 1080i
Format:
 MKV | 12.0Mbps
Length:
 03:02:00 | 16.1Gb
Video:
 H.264 | 1920x1080i | 16:9 | 29.970fps
Audio:
 AC3 | 384kbps | 48kHz | 2 channels: L R
Language:
 English

Kod:

https://www.keeplinks.co/p84/59fd9d377c84b
pass: galexandersHD
Attention:
Files are subject to expiration and can be automatically deleted if their not downloaded 30 days after the last download.