The Who - Live At The Royal Albert Hall (2017) BDRip 720p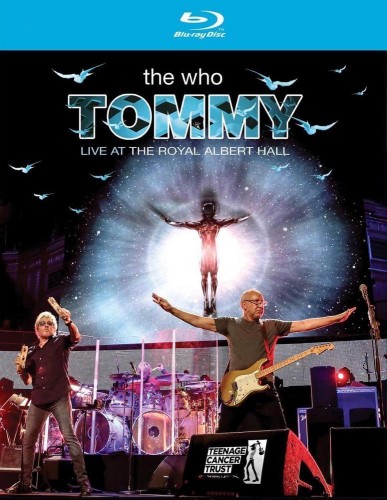 Screenshots:
Setlist:
01. Introduction
02. Overture
03. It's A Boy
04. 1921
05. Amazing Journey
06. Sparks
07. Eyesight To The Blind (The Hawker)
08. Christmas
09. Cousin Kevin
10. The Acid Queen
11. Do You Think It's Alright?
12. Fiddle About
13. Pinball Wizard
14. There's A Doctor
15. Go To The Mirror!
16. Tommy Can You Hear Me?
17. Smash The Mirror
18. Underture
19. I'm Free
20. Miracle Cure
21. Sensation
22. Sally Simpson
23. Welcome
24. Tommy's Holiday Camp
25. We're Not Gonna Take It/See Me, Feel Me
Encore:
26. I Can't Explain
27. Join Together
28. I Can See For Miles
29. Who Are You
30. Love, Reign O'er Me
31. Baba O'Riley
32. Won't Get Fooled Again
About:
This unbelievable concert film captures the first ever live performance by The Who of "Tommy" in its entirety and boasts over two hours and twenty minutes of content. The show includes all time classics like Pinball Wizard, I'm Free, Amazing Journey, We're Not Gonna Take It, I Can't Explain, Who Are You, Won't Get Fooled Again, I Can See For Miles and many more!
In April 2017 The Who took to the stage at London's Royal Albert Hall to perform their rock opera "Tommy" live in its entirety for the first time in their long and illustrious career. Previous Who live shows had always dropped two, three or four tracks from the album but for this show in aid of the Teenage Cancer Trust the band would perform every track. With specially created animations on a huge screen above the stage and creative use of lighting the concert told the story of the "deaf, dumb and blind kid who sure played a mean pinball." In addition, at the end of Tommy, the sell-out crowd was treated to a short set of Who classics. Always a great live band, this performance was a thrilling ride from start to finish.
As well as the incredible full show, we also include some great bonus features. There is a behind the scenes featurette, plus also full screen animations of both The Acid Queen and Pinball Wizard with the live performance audio.
Info:
Source:

Genre:
Rock
Quality:
BDRip | 720p
Format:
MKV | 5000kbps
Length:
02:04:00 | 6.91Gb
Video:
H.264 | 1280x720 | 16:9 | 23.976fps
Audio 1:
DTS | 1510kbps | 48kHz | 6 channels: Front: L C R, Surround: L R
Audio 2:
PCM | 1510kbps | 48kHz | 2 channels: L R
Language:
English

Kod:

https://www.keeplinks.co/p84/59f199dbec598
pass: galexandersHD
Attention:
Files are subject to expiration and can be automatically deleted if their not downloaded 30 days after the last download.